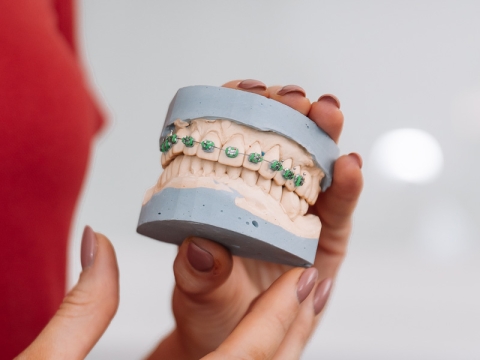 Orthodontics is the part of stomatology specialized on diagnostic; prevention and treatment of dentition anomaly such as changing of teeth position in teeth arc, stimulation of bone grow of maxilla and mandible. Work of doctor-orthodontics requires large professional experience in the field of form correction, composing of individual program of the treatment course, exploitation of the appropriate tools and control of the treatment process. As a result, your teeth, jaws and lips will have appropriate position and face will look harmoniously.
Many people suggest that orthodontic treatment take place only in childhood. Today, adult orthodontics continues to evolve, because it is part of complex rehabilitation treatment of the patient. Orthopedic treatment improves not only esthetic of the smile but also makes function of masticatory apparatus maximum effective. In orthodontic treatment, doctors provide minor pressure on the teeth by state or variable constructions. Such pressure leads to progressive displacement of the teeth and their leveling correcting supporting bone at the same time. For this purpose used braces-systems, which select individually for every patient considering his physical features.
It is worth to mention about orthodontic preparing of the teeth before process of prosthesis, which used in complex rehabilitation. Usually before prosthesis of the teeth, specialists perform certain preparing of mouth called "mouth sanitation". This procedure includes therapeutic, surgical treatment and orthodontic preparation. In stomatology, it is possible to change slope of the teeth in consequence of orthodontic treatment methods. Such preparation will take some time, but will allow avoiding of depalpation or needless dissection of the deformed teeth.
Main task of orthodontic is performing of the treatment actions aimed at changing of irregular dentition. Modern stomathology has wide opportunities for realization of these treatment actions. Tasks of orthodontics looks like spiral structure because they accrue gradually but have single purpose – level teeth and correct bite in the patient. Doctor-orthodontist has to definite not only goals of the treatment but do them good. Orthodontic treatment depends on variety factors and thirst of all on individual features of every patient, expressed in the disposition on quality treatment and patient reaction on presence of special systems in the mouth.