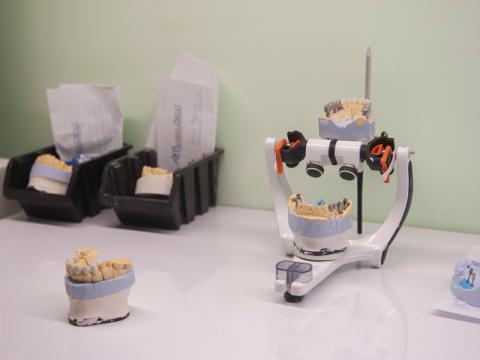 Usually prosthetics is the final stage of the complex stomatological rehabilitation of the patient. Moreover, this stage is the most expected, because it enshrines all previous results on which the whole team worked throughout the period of rehabilitation. The result of a successful prosthesis depends on effective treatment plan based on professional diagnosis, which includes:
Production of diagnostic models that accurately and objectively reflect the shape and position of teeth, and the ratio between the jaws.
X – ray. Informative method of visualization in the stomatological examination. Allows evaluating the shape, color, inclination of the teeth positioning to surrounding soft tissues.
Analysis of diagnostic models in articulators. For the manufacture of prosthetic restoration, it is important to consider the full range of movement of the mandible relative to the maxilla. Create a form of dentition, which can ensure the harmonious functioning of the maxillodental system, is possible through an analysis of models of the maxilla and the mandible in the articulator.
Wax modeling. Method, which allows to see the final result of treatment at the early stages of the planning. This allows us to maximize the expected result of treatment.
Nowadays, the main goal of successful prosthesis is to restore function and esthetics of maxillodental system. Aesthetics must be supported by functionality because otherwise aesthetics will be temporary. Recovering of the tooth anatomy is possible with ceramic restorations. There are very high demands to the materials used in the manufacture of restorations. Crowns, veneers, overlays must have high strength, resistance to the chemicals, must be harmless for the body, and aesthetically attractive. "Press ceramics E" - Max fully complies of similar requirements, which contains no metal and has a number of advantages. First of all - ceramic restorations do not change color and does not absorb dye, and their optical properties are identical to the optical characteristics of the tooth enamel. Second - thanks to a perfect surface ceramic restorations do not accumulate dental plaque. Third – patient has an opportunity to choose the appearance of future restoration.
Custom abutments are used most effectively in prosthodontics that most accurately replicate the anatomy of the tooth. Custom abutments can improve the adhesion of the gum to the tooth crown. Abutments are made after successful implantation procedure. According to this model is made and then milling custom abutments. It is important to remember that quality prosthetics is very complex process, in which is extremely important interdisciplinary approach involving periodontist, surgeon - implant surgeon, orthodontist, and knowledge of gnathology, osteopathy and modern methods of treatment.