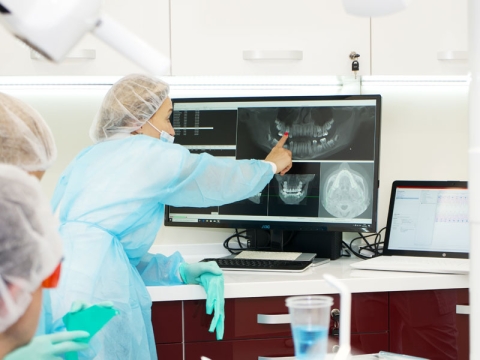 Health and beauty of the teeth, reconstitute of functions and esthetic, increase the comfort and life quality of every patient is the main goal of dental treatment, performing by group of professionals. Often this is easy and quick, sometimes long and quite hard, but all focus is on how to achieve high result. The thing is to help the patient overcome discomfort before dental visit. Every patient, visiting our clinic, in one-way or another, passes series of dental procedures that  makes him a part of our team. For a long time, there was a stereotype that teeth treatment is difficult, painful and terrible. Dental treatment in our clinic passes painless and, what is important, comfortable for the patient. This gives us an opportunity to work with correct data, conduct effective treatment in accordance to all prognoses. Computerized systems are maximally convenient for stomatology work and comfort for the patient. There is modern equipment in our cabinets including intraoral cameras that allows the patient watch his teeth with doctor on the screen.
The key to success functioning of dentition system are scheduled examinations of patient where primary pays attention on the level of individual oral hygiene, condition of the gums and occlusion is controlled. In case of normal condition of the above-mentioned components prognosis of out treatment will be positive.
Today, modern dentists see stomatology as opportunity for resolving wide spectrum of problems, because they can use newest technologies and operations, high-quality instruments and materials for treatment.