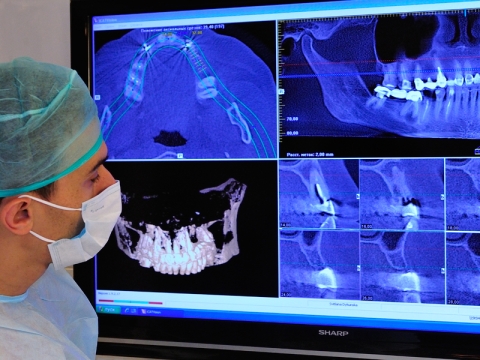 Nowadays, the most modern rehabilitation method for patients with dentition defects is method of dental implantation. In the bone tissue on the place of lost tooth can be set an artificial root called implant. Titan implants are more popular than zirconia  implants. Thanks to phenomenal capacity to engraftment in bone tissue of titan this material used in the practice of stomatology prosthetics over 50 years. Titan implant after installation into a bone tissue passes through biological stage osseointegration (implant engraftment). After a wail bone cells surround tight surface of the implant. This process provides reliable integration of the implant into bone tissue with the prospect of further prosthesis.
Tooth implant consists of three parts: implant, abutment and crown. Abutment is an intermediate element connecting implant and crown. Such construction is very convenient and allows to change abutment and crown if it is necessary, when implant is setting forever.
There are implants of different diameter and length, which used depending on clinic situation. Therefore, cooperation between surgeon, orthopedist and dental technician on this stage is very important.
Many implant systems on the market represent themselves well in long-term results, amenities of surgery and clinic confirmations in laboratories. Group of world leaders include such producers as Nobel Biocare, 31, Strauman. They give lifetime guarantee for their products. In addition, it is important that producers of these implants offer to the clinics, which work with their products approved technologies of planning, evaluation and modeling.
One the main conditions for successful realization of dental implantation is availability of sufficient volume of bone tissue. Sufficient volume of bone tissue allows to reach primary fixation in the bone, what is enough prognostic for doctor-patient. If available volume of bone tissue is not enough, doctor can assign surgery to restore it with bone-plastic materials. In modern stomatology bone plastic is widespread method of bone tissue restoring. This method can be realize in many ways, in some used as bone replacing medications and the patient's own bone tissue.
It is important to  note that doctors can do surgery on the maxilla and this procedure is called sinus augmentation. This surgery  directed to to raise the bottom of the maxillary sinus filling it space with bone material. In total there are two methods of this operation: closed and opened sinus lift.
Closed method is most common in cases when  thickness of the bone is more than 10 mm, when opened method is used when thickness of the bone is less than 7 mm. During closed sinus lift vertical cut is made and then into the cavity under the mucous is entered osteoplastic material. This operation is performed with instrument called osteo (surgical cutter).  In closed sinus lift at the same time with the introduction of bone material doctor sets an implant. Access to the maxillary sinus is provided through the hole of the implant and the patient tolerates this operation easier.
Doctor makes so-called "lateral window" - a hole in the side wall of the sinus, which is done through raising its bottom. Space that formed is filled with bone material. With an open sinus lift, implant can be set a few months after surgery.